A Long Journey
Our journey as mineral sellers officially began 15 years ago, but it was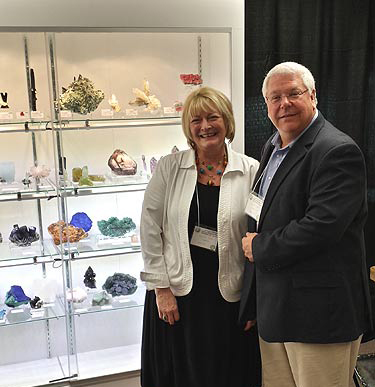 conceived in the passion of a 7-year-old kid who fell in love with rocks found in a quarry in Fort Wayne, Indiana. That was 58 years ago.
The details of the early years of Stonetrust aren't important beyond mentioning the principles that guide us daily. Developing long-term relationships is a fundamental goal of our company, and we do this through the principles of respect and honesty. We owe our longevity and success to this commitment.
"It's about the rock."
This is a phrase we have heard many times. Mineral collectors are on a vigilant quest for the next addition to their collection, and we understand the zeal that motivates them. We share that same enthusiasm, and are eager to employ that energy to find that next perfect mineral. We do that best when we understand the goal and can partner with the collector.
In addition to working for specific collectors to assist in building collections, we are constantly building inventory that we trust will be interesting and pleasing to prospects and clients that we meet at various mineral shows.
The rock can be elusive.
We have built our business on cultivating great relationships with clients, collectors, mineral dealers and miners. Sometimes it takes many months — or even years — to find and acquire the specific mineral specimen that will satisfy the collector's desire. Patient diligence fuels our search!
---
Who We Are

Robert Snyder

The appreciation and love of minerals came to me early. I collected as a child, but education and professional commitments caused my hiatus from the hobby. I rediscovered minerals and rocks in the 1990s, and delved into deepening my knowledge and developing a small personal collection. I was intrigued with growing a mineral dealership. I thought that it would be fun. My wife, Stephanie, was supportive of the concept, and we have been selling minerals ever since. It has been an interesting ride and, as I anticipated, it has been fun.

Stephanie Snyder

I had little knowledge of rocks or minerals when I wrote the Stonetrust business plan. I did have over 20 years of sales and marketing experience, but I was on a steep learning curve relative to the mineral collecting hobby. It has been a grand adventure. I have developed a deep appreciation for the wonders of nature that we call minerals. Their beauty can be astounding. The colors and forms of nature are impossible to improve upon.

It is my profound joy to work with clients in building their personal collections. Understanding personal criteria and meeting expectations is a rewarding experience. It's also great fun to assist more casual buyers in selecting minerals for home decor.

Appreciation of and interest in minerals crosses a wide spectrum. This assures that Robert and I will meet interesting people at mineral shows and other events associated with earth's treasures. We look forward to meeting you along the way!